Profile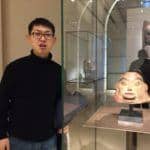 Shuo Zhang
Curriculum Vitae
Education

The University of Edinburgh (PhD candidate, Sep 2017-now), Zhejiang University (Msc, Sep 2014-Jun 2017, China), Huazhong University of Science and Technology (Bsc, Sep 2010-Jun 2014)

Work History

Internship in J&J Medical Devices Company (Mar 2016-Jun 2016)

Current Job

PhD candidate

Employer

The University of Edinburgh
Favourite thing to do in my job: Thinking and conducting experiments in the lab to make my scientific idea into reality

About Me: Devoted to science career and always happy to share some interesting knowledge with you

Read more

I am a 25-year-old PhD student studying in The University of Edinburgh. Before I came to UK, I finished my Bsc and Msc in China. Science makes me happy, encouraging me to discovery something amazing, and something which might broaden the edge of human knowledge. Besides in the lab, recently I am engaged in school choir to receive some musical training and gave a performance, something I have never done before. I also attended a vegetarian society and become more interested in vegetarian and vegan food. Every week we would hold a potluck with different themes (Green, Rainbow, East African, etc), which is fantastic! I am also quite interested in sports (Tennis and Table tennis) and won several prizes during my Msc in China.

My Work: Using chemistry and biology technology to create artificial human tissue and cell lego.

Read more

My work contains two aspects: one is creating artificial human tissue, the other one is making cell assembly (something like building Lego), both of which are associated with chemistry and biology. For the artificial human tissue, try to imagine our bones. If someone got a car accident and his bones were damaged, we see there is an urgent need to repair his injuried bones. And now our artificial bone would be happy to make some contributions. It will be transplanted into the injury sites by surgery operations and replace some basic functions of original bones, such as supporting human weight. This is exactly the main purpose I try to achieve. Basically, the artificial bone would be composed of strong scaffold and human cells to make its role. And my job is to creating new molecules and materials for scaffold fabrication, and seed bone cells into the scaffold to make it behave like a real bone. Sounds fantastic, right? Then, for the cell lego, you might know that cell membrane have some chemical groups as well. So, this novel idea is bascially treating cells like chemical reagents and using cells to perform reactions. I swear it's amazing.

My Typical Day: Besically staying at the lab and accompanied with different interesting glasswares all day, trying to mix various chemicals (hazardous or non-hazardous) to creat something new and fantastic.

Read more

Normally an experiment contains three aspects: experimental design, experiment process and data analysis. And my typical day for research is focused on these three aspects. I will give you an example. Listen, now I have two chemicals A and B with different functional groups. To continue my research, I would like to create chemical C with linking A and B through some chemical reactions. The first step is to search for paper published on journals online to figure out experimental details for this reaction (chemical amount, time, temperature, etc.), and write  those down to make sure every step is safe and correct. The next step is preparing for the needed reaction container and equippment in the lab, and starting the stardard procedure under the protect of saftey equipment. Afterwards, once we get the compound after finishing the whole reaction, we would usually use some powerful analysis instrument (Infrared Spectrocopy) to make sure the molecular structure of our compound is exactly we want, and we collect data to make it clear and beautiful. Congratulations, we make it! All the contents above is my typical research day. Besides, after going back to home, I  turn into a "professional" cook to entertain myself, usually Chinese cuisine (hotpot, tofu, etc), and some Japanse Sushi and Italian pasta as well! Then, going to gym 2-3 times a week, and having a nice sleep. Last but not least, I make two pieces of British breakfast in the morning everyday, one for me, and one for my girlfriend! Hahaha

What I'd do with the prize money: I am going to organise a public engagement event themed "Chemistry in Traditional Chinese Culture".

Read more

Chemistry has played an important role in the tradition Chinese culture, and contributed to the progress of human civilization a lot. This event would help the public to explore the beauty of chemistry in ancient China. Alchemy, an eary form of chemistry,  aims at turning some basic substances (base medals) into gold to cure diseases and achieve immortality, which was greatly adored by Chinese empires. Gunpowder is also invented by ancient Chinese chemists in the 9th century, changing the world history a lot. Based on those kind of subjects, I am keen on disseminating interesting chemistry knowledge to the public, especially some brillant inventions originated from China. To achieve this goal, I plan to seperate the event into several different sessions, like General Chemistry Knowledge Quizzes, Chinese Chemisry Inventions Exhibition and Public Lectures.

My Interview

How would you describe yourself in 3 words?

inquisitive, dilegent, laughing

What or who inspired you to follow your career?

Alway trying to taste something new and prove myself as a hero, and I think ' why not being a PhD. Lukily I got the valuable opportunities to behave like an innocent child and explore the world with great ethusiasm.

What was your favourite subject at school?

Physical education classes, though destiny is trying to turn me to become a fantastic chemist and I find myself more interested in some organic and bio chemistry now.

What did you want to be after you left school?

Hopefully a research scientist in world-famous International Corporations. Or a professional consultant trying to figure out pratical problems for medical industry by using my multidisciplinary knowledge.

Were you ever in trouble at school?

To be honest, I seldom got problems in exams. However, how to defeat my flatmate in tennis competition still annoys me a lot.

If you weren't doing this job, what would you choose instead?

If I were not a scientist, maybe I would devote myself into some arts, since I really enjoyed drawing at young age and recently I even attended a university choir, and that's brillant!

Who is your favourite singer or band?

Jay Chou, who has creatively combined traditional Chinese style with various musical elements (rock, pop, etc), affecting the entile generation of teenagers since the year of 2000.

What's your favourite food?

Chinese cuisine (spicy tofu. etc)

What is the most fun thing you've done?

Successfully synthesizing some needed molecules for my research.

If you had 3 wishes for yourself what would they be? - be honest!

Speaking English as a native, as strong as Dwayne Johnson and publishing paper in the world's most authoritative journay.

Tell us a joke.

-What is the color of sea? - I don't know... -Tell you, its blue! -Why? -Because.. little fish always says Bluuu..Bluuu..Bluuu when spitting bubble!
---
---