Profile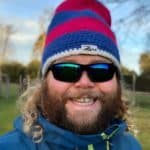 Neil Keddie
Thrilled to have won the Molecule Zone! Thank you all for you wonderful questions over the last two weeks.
Curriculum Vitae
Education

The Glasgow Academy (1994-2000), University of St Andrews (MChem and PhD, 2000-2009)

Qualifications

Chemistry with Medicinal Chemistry and Industrial Placement (MChem) and PhD in Sugar Chemistry

Work History

Lead Discovery Chemist (Organon), Postdoc and Teaching Fellow (University of St Andrews), Freelance Editor (Royal Society of Chemistry), Kite Seller (Wind and Water) and Outdoor Equipment Retail (Tiso)

Current Job

Organofluorine Postdoctoral Researcher and Teaching Fellow at the University of St Andrews

Employer
Favourite thing to do in my job: Making new molecules that nobody has ever had before. I definitely get a thrill from the chase of making brand new things.

About Me: I'm a Researcher and Teaching Fellow at St Andrews, which means I spend about half of my time teaching chemistry to students (in small groups and in the teaching lab), and the other half in the lab making new functional molecules (my favourite bit!)

Read more

I live in Fife with my wife, 3 kids, 2 cats and a dog. We've lived in Fife since I met my wife at University in St Andrews (a few years ago) and decided to stay in one of the most beautiful parts of Scotland. I was lucky enough to do most of my PhD at St Andrews too, before spending 4 months at the University of Oxford to finish my lab work, as my supervisor had moved down there. My PhD work was making a modified type of a special sugar called inositol that your body produces to pass signals around in your cells. We were trying to make molecules that could turn this signalling on and off (like a lightswitch), so we could study how it works.

After my PhD I applied for lots of jobs, but the first I was offered was back at St Andrews doing something totally different: fluorine chemistry. I spent several years making the most polar saturated molecule in the world (that's still my record, btw), then my role changed to include teaching students at all levels of their degree too. I've done this for the last 4 years and still love it.

In my spare time, you'll find me outside with my family and the dogs going for walks, at my boy's rugby training, working in the garden and just having fun. I love to cook, especially BBQ and pizza made in my own wood-fired oven (yummy!).

My Work: I make new carbon-based molecules containing fluorine atoms, which help to make molecules with interesting properties for everything from new liquid crystal displays for phones, through to new diagnostic tools for cancer.

My Typical Day: Get up, feed cats, puppy and my kids, head to work, get some chemistry going in the lab, teach some small group classes, more chemistry in the lab, sometimes teaching students how to do experiments in the teaching labs, head home, bedtime for the kids, cook dinner with my wife then chill out (or sometimes work on some freelance editing too). In short: Eat, Sleep, Chemistry, Repeat.

What I'd do with the prize money: If I win the money, I would put it all into an outreach programme called ChemBus.  We want to extend the number of schools we can visit each time we run ChemBus and to develop a new hands-on experiment for our 2018-19 visits.

Read more

ChemBus is an outreach scheme, which visits schools throughout Fife and Tayside (as far south as the Forth Bridges, as far north as Aberfeldy and as far west as Auchterarder).  It is supported by the Royal Society of Chemistry Tayside Local Section and staffed by volunteers from the University of St Andrews.  

We visit 8–10 schools each year, bringing practical demonstrations (about Gases in the Atmosphere)

  

and hands-on activities (polymer properties, DNA extraction, magic alchemy, invisible inks, dry ice fun)  that pupils do not usually get the chance to try at school.  

  

ChemBus has run for over 20 years, and I have been doing outreach with them for 18 years (running it for the past 6 years). In the time I have been involved, I have visited too many schools to count and seen thousands of pupils. Some of these pupils who we inspired through ChemBus actually came to study chemistry at the University of St Andrews, and then volunteered to come back out on ChemBus to inspire the next generation of chemists.

My Interview

How would you describe yourself in 3 words?

Motivated Chemist (and) Dad

What or who inspired you to follow your career?

My Chemistry teacher Mrs MacDonald – she was definitely my inspiration to go and study pure science at University, and of course Chemistry was my first choice. Also she let us set fire to things up in class – I think that helped with the motivation somewhat!

What was your favourite subject at school?

Definitely Chemistry, then maybe Biology after that

What did you want to be after you left school?

An Oceanographer – I always thought combining science and working the sea would be a cool thing to do – I loved scuba diving too, which helped

Were you ever in trouble at school?

Pretty much never – I was a bit of a geek really, and only occasionally ended up in trouble for mucking about

If you weren't doing this job, what would you choose instead?

Maybe a hairdresser or an engineer (both long stories, but happy to tell you more)

Who is your favourite singer or band?

Röyksopp and I like a lot of other electronica bands too

What's your favourite food?

Pizza (preferably made from my own wood-fired oven)

What is the most fun thing you've done?

Climbed a mountain called Stok Kangri in the Himalayas (it's over 6100m high!)

Tell us a joke.

I once told a Chemistry joke... but it didn't get a reaction.
---
---
---